Every November there is this event called National Novel Writing Month (NaNoWriMo). During the month of November, tons of people attempt to write 50,000 word novels. This year, as I do every year, I will be participating. From now until November 30th, you won't hear a lot from me. I'll be too busy writing and keeping up with my homework to socialize. It's all in the nature of the event. I will be staying up late typing out a story that I already have plotted out for the most part.
So, let me tell you about the story I'm writing. Here, I'll leave you just a few sentences:
Crystal and Hally are nemeses. It sucks when they get paired together in archaeological field school. What sucks even more is that the world is ending, and they will have to work together if they're gonna survive.
So yeah, that's what I've got going on next month. That on top of my internship, job, and classes! See you in December!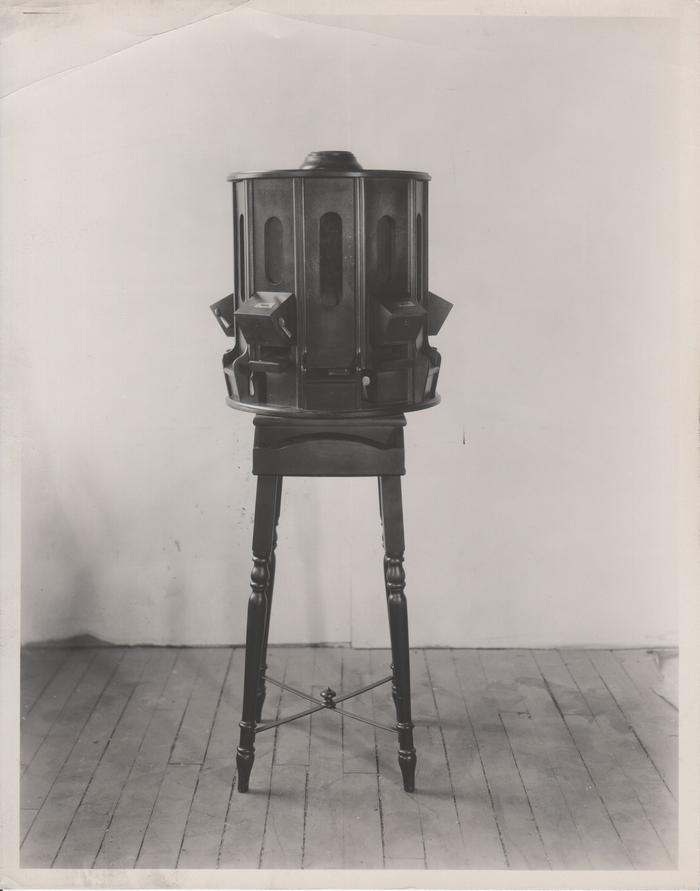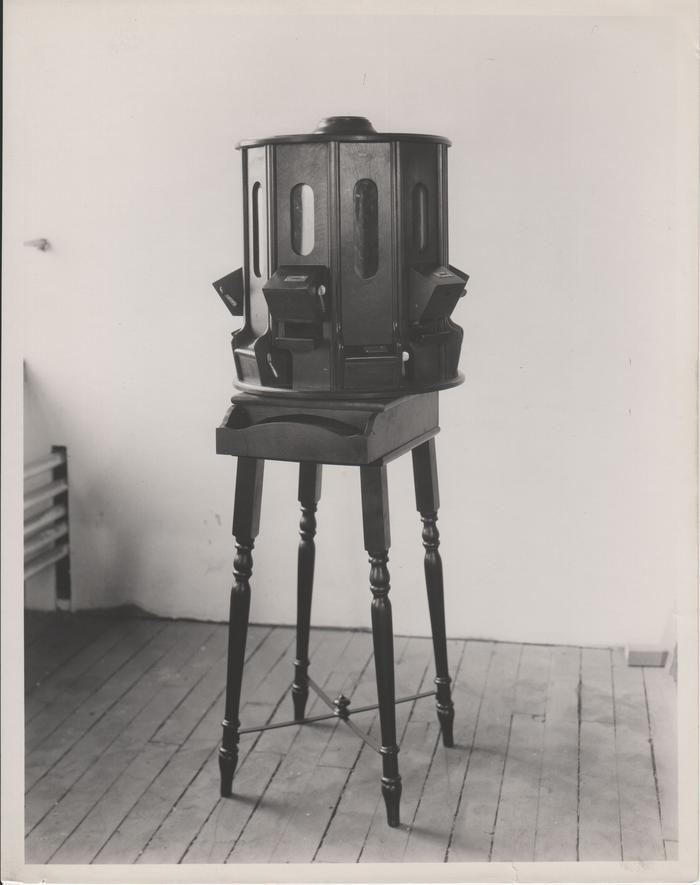 This past week, I discovered these pictures in the museum photograph collection.
I have spent the last week searching the internet for the answer to one question: WHAT IS THIS THING?! I have looked under everything imaginable. It seems to be an old vending machine. It has eight sides. There is a coin insert on every side of the darn thing. Is it an old cigarette dispenser? Or is it some kind of polling machine? I just can't find anything on the Internet that looks ANYTHING like it!
I've asked so many people. I asked my Facebook friends, my fiance, the curator of the frickin museum. The coin-operated item collector at the museum. I've had friends ask people who run antique shops. I've asked professors at my university. Nobody knows.
So now I'm turning to you guys. Give a guess, any guess, as to what you think this is!
In the anthropology lab, I am working on sorting broken ceramics found at the old DeMarsac trading post. Someone organized the pieces by the type of ceramics they are, and it's my job to go through all of them, find the number written on them, and put them in bags based on their numbers (which signify where they were found in the excavation). It's cool to see all the patterns and designs. That's all that has been going on there for me.
Another big thing is happening in my life right now: National Novel Writing Month, NaNoWriMo, starts next month. This is an official thing that a ton of people do where we all try to write our own 50,000-word novel in the month of November. I have tried to do it every year since 2010, and I have never succeeded. Every year I say, "This year will be different!" This year I mean it more. THIS YEAR WILL BE DIFFERENT.
I haven't decided what I'm going to write about yet, but I'm playing with the idea of a Night at the Museum-esque plot. It seems appropriate given the way my life is oriented currently. That could be fun, but I am also super into the idea of exploring emotions in my writing. I like writing out intense situations and using my empathy to see how the characters feel. The month of October is the time for me to decide what I'm going to write, so we'll see what happens.
At the Grand Rapids Public Museum, the work I'm doing is giving old photographs new numbers so they can be found easily. Yesterday I was lucky and came across some interesting displays, including this one of underwear in Kresge's Department store around 1935. Here are some others I found (click the pictures for links to the photographs in the GRPM Collections!):
And of course, October 30th, 1920... Apple Day!
Hello everyone, and welcome to my website. It's my own little spot to show off what I'm up to... if anyone decides to visit. Since the school year started, I've been pretty busy! Like, ridiculously busy. Let me tell you.
We'll start with school. I'm taking three classes this semester. I'm taking Contemporary Anthropological Theory, Primate Behavior and Ecology, and Understanding Africa. Theory is difficult for me. My brain has a hard time wrapping around the concepts we're learning about. I'm trying my darndest. Primate Behavior and Ecology is a class I've been looking forward to since I got to Grand Valley. For that class I have to write a ten-page paper on a primate of my choice. I'll make a post about the monkey I chose once I've done my research... Understanding Africa is an online course, so it's a lot of reading, but it's something I'm interested in, so it's not hard to get into. I tend to spend five hours at a time sitting in a booth at the dining center and working on my homework. I do that almost every day.
Probably the most exciting thing about this semester is that I'm doing an internship at the Grand Rapids Public Museum. I'm working in Collections. One of my jobs is to look at history groups on Facebook and see if anyone has information about photos from the museum's collection. People haven't been very active yet, but when they post about the collection, I'll be there. Other than that, I do whatever the curators have for me to do. I cataloged an old phonograph on my first day. I've been working on the costume inventory for this event the museum does called Night at Your Museum. They've had me write accession numbers on the artifacts! My boss gave me a few options for a side project, and the one I think I'm going with is scanning and cataloging old photographs. Right now I'm working on photographs of buildings being built downtown Grand Rapids. Yet another thing they are letting me do is just find artifacts without adequate information in the database and research them so I can add some info. I did a PEZ dispenser recently. I think I'm going to post weekly about my favorite artifacts.
Another cool thing I have going on is a job at the GVSU Anthropology Lab. I'm a lab assistant, which means I spend five hours a week sitting in there, sorting and doing inventory on artifacts. I just started a big project where I will be sorting decorated china by where it was found, since right now it's sorted based on the type of decoration. It will take me some time and I am very excited to be working on historic artifacts. It hasn't taken me long to figure out that I'm more into historical archaeology than prehistoric. Luckily, my boss is flexible and found me a fitting project.
Now that you've made it through a few paragraphs of my professional life, I'm ready to get a little personal. I found out recently (like in the last two years) that I'm autistic. Learning this about myself has made a lot of things much easier than they always have been. I've been a lot more accepting of my mental limits. I have a lot of sensory issues that I was ignoring up until now. Fluorescent lights are my enemy. The world is so bright that I got rose-tinted glasses because they apparently soften the blow of blue light. I have sound-cancelling headphones that I wear a lot of the time. The biggest thing has been learning to listen to myself. Over the summer, I used the word "overwhelmed" to describe how I felt when I was overstimulated. I'm not going to get too detailed here.
I guess I'll touch on my gender while I'm out here. I identify as genderfluid, which means that my gender changes. Sometimes it changes for five years, and sometimes it changes for five hours. I like when people use they/them/theirs for me, but I'm not gonna be mad if you look at me, see a girl, and use she/her/hers. I'm comfortable with people seeing me as a woman, but just know that I'm not. I've been feeling more masculine lately, and I've been considering wearing my binder again. This is something that I expect to change a lot for the rest of my life. I'm growing my hair out because I feel like it would be stylish to have super long orange hair. It has nothing to do with my gender.
I started playing Dungeons and Dragons with Corbin and a couple of my friends. My character is named Zel, and he's a druid drow. His alignment is chaotic neutral. He's scared of the dark and loves butterflies. He's a gentle soul. I'll probably share pictures of him and the other characters if anyone cares about those.
I'm engaged to Corbin. We've been together since December of 2015. We're not going to get married this year or next year or probably the year after that. We're engaged because we're committed to each other, love each other more than anything, and want to spend our lives together. We're just too broke to have a wedding anytime soon. You can expect that in maybe five years.
Being a senior in college, I'm starting to really plan for my life after graduation. I am going to graduate in the spring. I'll be walking on April 27th or 28th. There's a chance I'll be taking summer classes due to some scheduling mishaps, but after that I'll be done with my undergraduate studies! I'm planning on taking a year (at least) off from school. I will hopefully score an internship at the Field Museum. If not, I'll try to do an internship at a different museum, either in Chicago or in Muskegon. The goal is to get more experience so I can get into grad school or land a job in collections in a museum. I'm looking at grad schools right now, preparing for next year when I'll apply. Part of me is hoping I can just get a good job in a museum without going to grad school, but another part of me wants to learn everything about museum studies so I can do the best job in collections as an archivist or someday a curator.
I have always hated the concept of salads. Why do people eat leaves? It doesn't make sense and it isn't appealing. That said, I finally decided to give salads a try. I chose my ingredients and customized my salad. Here's a picture of what I chose:
Here is the list:
Spinach

Pea pods
Cucumber
Hard-boiled eggs
Black olives
Mozzarella cheese
Cheddar cheese
Almonds
Ranch dressing
This salad tasted amazing. I made enough for two servings, so I'll be eating half of it tomorrow for lunch. I highly recommend that you try recreating it!
I'm the vice president of the Archaeology Society at my school. That said, I'm working on the flyers we're going to give out at Campus Life Night in the fall. Here is what I have so far:
I'm thinking of doing a two-sided flyer with parts of this, but more attention-grabbing stuff on the front and then the dates of the events on the back.
I just ordered a kid's accordion on amazon! I read a little about the instrument and found out that buying a legit one online is dangerous, but if I'm just buying a toy one to test the waters, the one I ordered is the one for me! It's a Woodstock kid's accordion. It had the best reviews that I've seen and it's in my price range, so I went for it.
I was just listening to zydeco because it's one of my favorite music genres. I heard zydeco both from my dad and from computer games. Here's a few songs from the Sims to get you acquainted...
The main instrument in zydeco music is the accordion, so there you have it: my new instrument.